The 2022 Subaru Love Promise Customer and Community Commitment Award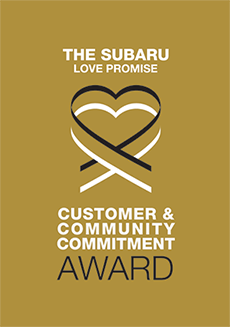 We've been nationally recognized for our dedication to our customers, our community, and the Subaru Love Promise.
We're honored to receive the 2022 Subaru Love Promise Customer and Community Commitment Award. This award nationally recognizes elite Subaru retailers who provide an exceptional customer experience at every interaction with Subaru. These retailers have also demonstrated an outstanding commitment to supporting passions and causes in their local communities in important areas such as the environment, community, health, education, and pets.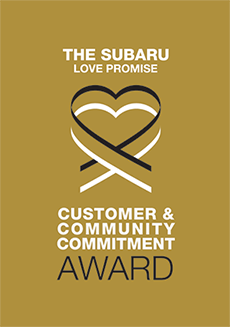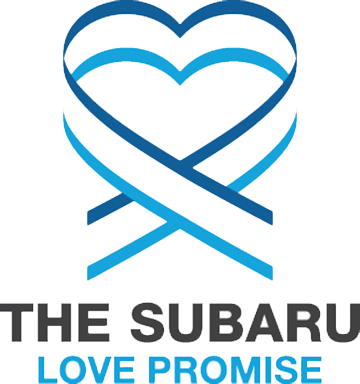 What is the Subaru Love Promise?
Subaru and our retailers believe in making the world a better place and the Subaru Love Promise is our vision of respecting all people. This is our commitment to show love and respect to our customers and to work to make a positive impact in the world.
How is Wheeling Subaru dedicated locally to the Love Promise?
Our Love Promise can be seen in various partnerships with local charities and non-profits. We're grateful for the opportunity, not only to be a part of our community, but to serve it as well.
Marshall County Animal Shelter
Shrader Environmental Education Center
Bridge Street Elementary School
Love Promise Stories from Wheeling Subaru
Subaru and Wheeling Subaru believe in making a positive impact on the communities in which we live and work. We uphold that belief through our Love Promise Community Commitment. Every month, we select inspiring stories from customers and partners from around our area who strive to support our collective commitment and feature them here
Subaru Loves Pets - abby b
Wheeling Subaru's Pet Adoption event in conjunction with Marshall County Animal Shelter was once again a big success. Every kitten available found a new furrever home and serval applications were taken for dog adoptions. Subarus continued support of the underdogs means so much to us and we truly appreciate everything they do.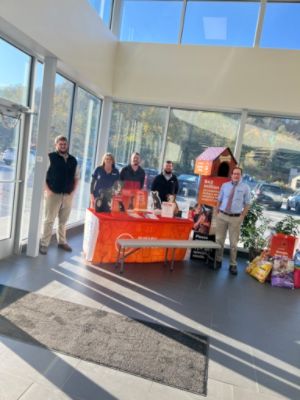 ---
Wheeling Subaru Loves to Care - thea g
Wheeling Subaru and The Leukemia & Lymphoma Society are spreading warmth, love and hope locally through the nationwide Subaru Loves to Care program. The dealership generously donated 80 blankets and arts and crafts kits to WVU Medicine Wheeling Hospital's oncology patients, their caregivers, and their families, in hopes of sharing comfort and support when they are needed most. Now in its seventh year, the health-focused initiative delivers 230,000 blankets, 31,000 arts and crafts kits annually to cancer patients in more than 400 hospitals, through 475 Subaru dealerships across the country. Pictured from left, are: Jondavid Pollack, MD, PhD, chair of Radiation Oncology at the WVU Cancer Institute of Wheeling Hospital; Dawn Gaus, RN, cancer navigator, Hematology and Oncology Clinic; Melissa Mealy, oncology patient and social services navigator; Deacon Paul Lim, vice president of Mission Integration; and Dave Weaver, president and owner, Wheeling Subaru. –WVU MEDICINE–

---
Wheeling Subaru Does it Again!!! - Phyllis R
To Dave Weaver and Staff at Wheeling Subaru – How can we begin to thank all of you once again for your dedication, your kindness, and generosity – helping the American Red Cross with their mission to save lives. Since the last time I submitted a Love Promise, we continued to come to Wheeling Subaru to set up our blood drives, disturbing the Show Room, without complaints by anyone, and collecting live-saving blood products to those patients in need. Not once, when needed, do I get a NO – it is always ANYTHING WE CAN DO TO HELP! THANK YOU DAVE WEAVER, YOU ARE A TRUE LIFE-SAVER! During our recent blood drive, we collected 34 units, helping to save the lives of approximately 102 patients in need. We are scheduled for 5 more drives in 2022, those drives will be met with the same understanding that we are all in this together. Our blood donors who regularly come to Wheeling Subaru are met with respect and kindness, and love coming to this business, blood drive after blood drive. Our staff is happy to come to this venue, it is no easy feat for this business to welcome us with open arms, disturbing their day, setting up bulky equipment and beds, and giving up their own life-saving blood! Our staff loves this business and Wheeling Subaru makes their day easier, as staff is under guidelines to mask, sanitize, and social distance. We love our partnership with Wheeling Subaru, and hope to come back year after year for the greater good of all of us. Sincerely,Phyllis Riccadonna/ Account ll ManagerAmerican Red Cross Blood Services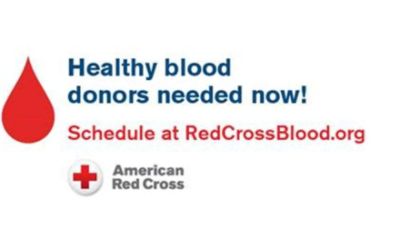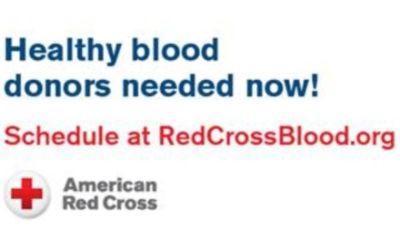 ---
Blankets! - Ashlie K
Wheeling Subaru provided blankets to The Salvation Army. Because of this donation, we provided blankets to a local HUD Housing Complex for all residents in need. We have also been able to provide to many other individuals in the community. Thank you, Subaru, for helping keep our community warm!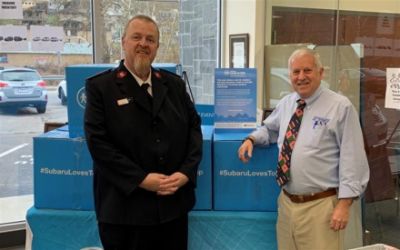 ---
Outstanding - Mandy O
Wheeling Subaru hosted an adoption event partnering with our local animal shelter, Marshall County Animal Shelter, and it was by far the best event. The staff went above and beyond to make every animal comfortable. What pulls at our heartstrings, is how Subaru pushes to find homes for the underdogs. It is one thing to help shelters, but Subaru looks at the underdogs and helping them find a home. This is a company that cares about animals. We had two cat adoptions, two dogs adopted after the event and so many donations. We look forward to working with this amazing organization in the future.
---
American Red Cross Blood Drives - Phyllis R
The American Red Cross is grateful to Dave Weaver, and the staff at Wheeling Subaru for their generosity during the darkest hours of blood donations. During the initial shutdown of Covid last year, the Red Cross had to cancel thousands of blood drives overnight, leaving us without sponsors and venues to host blood drives. The blood drives were canceled in schools, universities, and businesses .I contacted Dave Weaver to ask, if at all possible, could we come to the Showroom of Wheeling Subaru, with Covid restrictions in place – masking, sanitizing, etc. to hold a blood drive in an attempt to keep the inventory going to our hospitals for patients in need. Not only did Dave Weaver say yes, this blood drive has continued for over a year, and without hesitation, we are welcome with open arms and kindness. To date, the American Red Cross has collected 530 units of blood at this venue, helping to save the lives of approximately 1,590 patients in need. Our gratitude, appreciation, and love goes out to Dave Weaver and the staff at Wheeling Subaru for everything you have done for the American Red Cross with our mission in helping to save the lives. Not only do the patients in need benefit from the generosity, but their families who love them, are able to continue to have hope and enjoy their loved ones. THANKS AGAIN FROM THE AMERICAN RED CROSS, DAVE WEAVER & STAFF! Phyllis Riccadonna Account II ManagerAmerican Red Cross(304) 989-9929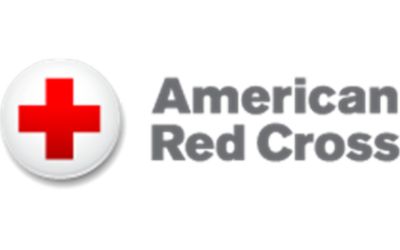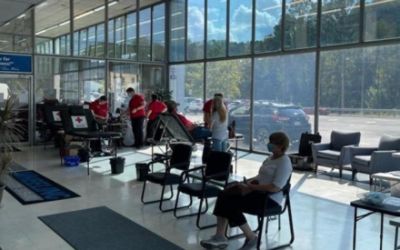 ---
Local animal shelter impacted by kindness - Amanda O
A huge shout out and thank you to Wheeling, WV Subaru for their continued support of Marshall County Animal Shelter. We had our adoption event today and two cats were adopted on site and numerous people are going to put in applications for dogs. This company has been one of our absolute best supporters and from the bottom of our hearts thank you for everything.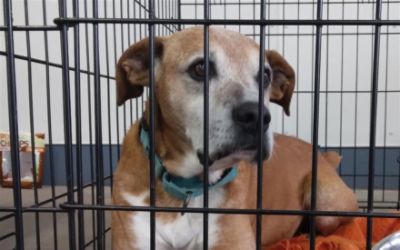 ---
Wheeling Subaru - Donations to Soup Kitchen - DAVID W
Wheeling Subaru is asking for the communities help again this year to help those in need. Wheeling Subaru is collecting toys and coats for The Soup Kitchen of Greater Wheeling. Since 1982, the Soup Kitchen has provided warm meals and companionship as a non-profit inter-faith ministry incorporated with the State of West Virginia. Our mission is to feed the hungry. We serve a delicious hot lunch (meat, starch, vegetables, bread, beverage, and dessert). We also offer a meal to go for the evening.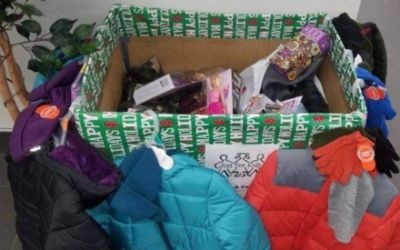 ---
WHEELING SUBARU HOLDS PET ADOPTION DAY - DAVID W
Wheeling Subaru held their annual PET ADOPTION DAY as part of the Subaru Loves Pets event. This year's event had great attendance and many pets from the Marshall County Animal Rescue League found their forever home!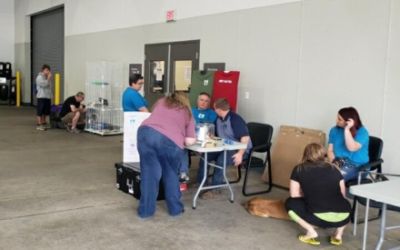 ---
WHEELING SUBARU DONTATES BLANKETS - DAVID W
WHEELING SUBARU DONTATES BLANKETS TO THE WHEELING SALVATION ARMY HOMELESS SHELTER. Wheeling, WV November 24, 2020. Wheeling Subaru today announced that as part of the Subaru Loves to Help initiative, Dave Weaver, Owner of Wheeling Subaru delivers 80 blankets to Captain Mark Van Meter, of the Wheeling Salvation Army for use in their shelter. The donation is in recognition of National Homeless Youth Awareness Month. In the United States, many Americans are living on the edge, forced to choose between necessities like purchasing food, paying rent or going to the doctor. 43.1 million Americans live below the poverty level* and 549,000 Americans are homeless on a typical night. * By donating blankets to shelters in need, Subaru and its retailers hope to provide comfort to homeless Americans this season. The blanket donation is a part of the Subaru Loves to Help pillar, the community-focused initiative of the Subaru Love Promise. To learn more about Subaru Loves to Help and the community work Subaru does, visit www.subaru.com/help.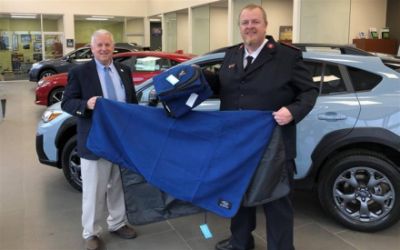 ---